RECYCLING VISION
Driven to make a change in the fast fashion industry, Dana invented an innovative approach to ecological fabric manufacturing.
She found a way to give a new cycle of life to clothes we consider as unwearable. Discarded knits are shredded into monochromatic fibers that are then felted into new recycled textile. This metamorphosis is illustrated by integrating a new knit within the recycled textile. The collection is designed to push a recycling agenda forward and to question the common perception that recycled products are unattractive or invaluable.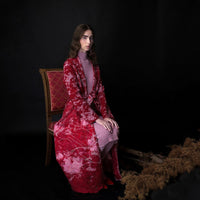 INSPIRATION
The collection is inspired by the massive city growth in the past 40 years, the overtaking and marginalization of agricultural fields by urbanization. As the daughter of a farmer who experienced this process firsthand, Dana wanted to shed light on this phenomenon.
Dana used NASA aerial photographs that reveal the changes on the ground in cities all around the globe. The photographs are used as an inspiration for the colors and textures of the collection.
Testimonials
Introducing the new collection at VIFW fashion week 2018, the fashion designer Dana Cohen stirred up the stage with beautiful fashion designs.

Harper's BAZAAR Vietnam
Cohen (26), winner of 2015 Fini Leitersdorf excellence award for display of creativity and originality in design, is looking for new ways to revive thrown away garments. She manages to do so in an innovative, inspiring collection based on textiles she created by reconstructing second hand knits into beautiful abstract fabrics.

TREND TABLET
Whatever your thoughts are on upcycled fashion, Worn Again will have you thinking differently.

"THE GREEN SHOWS"